iCo-op enhances their AML application on IBM hardware and software platforms at the IBM Innovation Center for Business Partners
IBM PartnerWorld, 18 Mar 2008

iCo-op.net provides Governance, Risk Management, and Compliance (GRC) solutions to help clients to comply to the regulatory requirements of Basel II, SOX, and Anti-Money Laundering Acts. iCo-op.net customers include banks, financial institutions, governments, and large enterprises. iCo-op™ solutions include Anti-Money Laundering System (AMLS), Basel II & CDO Risk Managers (RM), and Fraud Detection and Management Solutions. To date, iCo-op.net has already filed six patents to protect its intellectual properties.

In order to increase it's competitiveness in the market, iCo-op.net made a decision to port one of their key applications to IBM® WebSphere® Application Server. The iCo-op™ Anti-Money Laundering System (AMLS) provides banks with a solution to comply with the strict regulations of governments to combat money laundering activities.

With the expert guidance from the IBM Innovation Center IT consultants, the iCo-op development team obtained basic knowledge on the IBM software. IBM redbooks and trial copies of IBM software licenses were downloaded for this purpose. Through the IBM virtual private network, iCo-op logged in remotely into the IBM Innovation Center servers. Within 2 weeks, the port was completed and iCo-op's AMLS was then ready to go to market with IBM WebSphere Application Server and IBM System x.

"We are very impressed with the service and response from IBM Innovation Center. We received a lot of assistance in troubleshooting and debugging code to resolve porting issues", quotes Mr Peter Ho, Business Development Director. Referring to the IIC VPN facilities, Mr Ho was quick to add, "Remote access with VPN is very beneficial. Our consultant can continue with testing even when he is travelling. He can access from anywhere as long as there is internet access".

Commenting on his overall experience at the IBM Innovation Center, Mr Ho remarked, "The entire engagement process was very professionally done, from the kick-off conference call right up to completion!"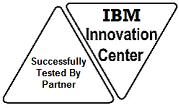 For further information:
iCo-op.net Pte Ltd http: www.ico-op.net
IBM Innovation Center: ibm.com/partnerworld/iic

* All trademarks, trade names, service names and logos referenced herein belong to their respective companies.
Click here to download the News